Hurricane Middle Message – Friday, October 1, 2021 Due to an increased number of COVID-19 positive students at Hurricane Middle we would like to remind our students and families to continue following COVID-19 prevention strategies and daily best health practices, including: · Frequent and proper handwashing, · Daily monitoring/student health screenings by families for possible COVID-19 signs and symptoms. If symptoms are present, do not send your child to school. · Social distancing to the greatest extent possible, and · The use of face coverings or masks in public indoor settings as outlined in the PCS Roadmap to Recovery as recommended by the CDC, state and local health officials. COVID-19 prevention strategies remain critical to helping protect people, including students, teachers, and staff, who are not fully vaccinated, especially in areas of moderate-to-high community transmission levels.
Next week is Hurricane High's Homecoming, NOT ours. Our homecoming will be in October. There are NO dress-up days for us next week. HMS students are also NOT welcome at the high school daytime festivities. HMS students are welcome to attend the ballgame Friday night.
Hello, Parents there are TikToK videos being shared of children stealing school supplies including soap refills and other items. Please discuss this with your children and explain to them that if this happens at Hurricane Middle School, they will be given consequences for their negative actions. HMS will not tolerate stealing or vandalism. Thank you for your help in this matter.
September Menu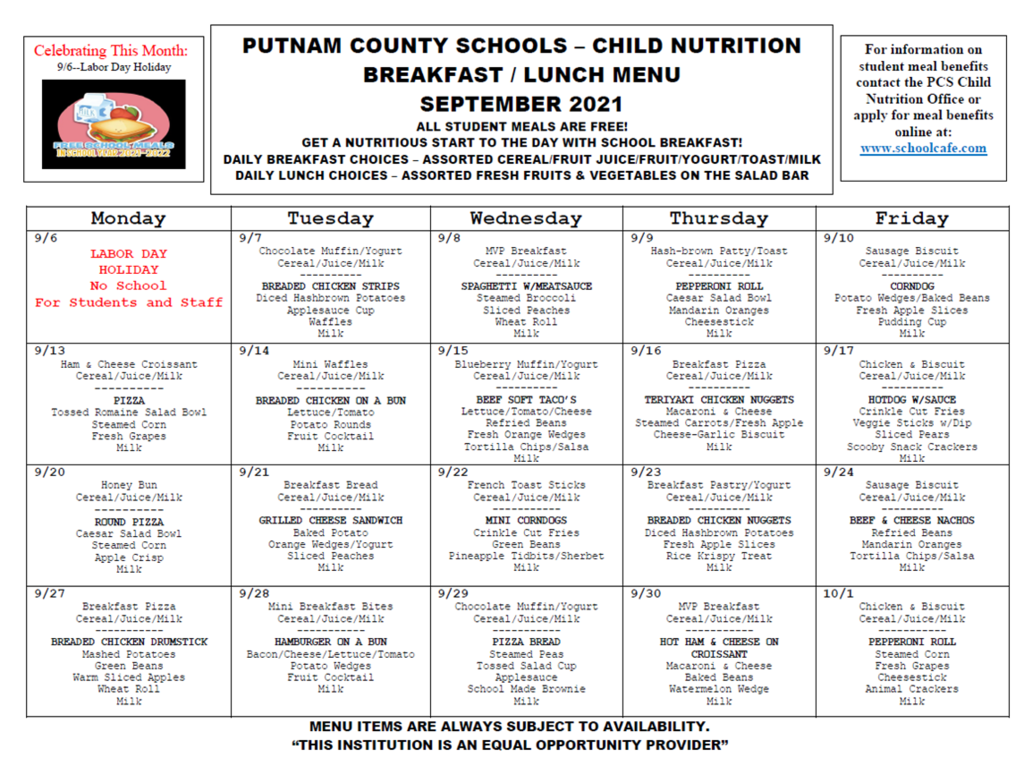 HMS has extra yearbooks to sell. Please send in $28.00 cash (exactly) or $28.00 check payable to HMS. These will be first come first served. Sale starts tomorrow. See Ms. Marino by the main office steps.
The businesses located next to HMS and the library have requested that parents and staff do not park on their property. In addition, they request that parents do not use their property for drop off and pick up of students.
Reminder: All current 7th grade students are required to have the Tdap and meningococcal vaccines, a Health Check and Dental Exam prior to entry into the 7th grade (2021-22). Please consult your child's healthcare providers or the local health department at 304.757.2541. PLEASE TURN IN YOUR CHILD'S IMMUNIZATION RECORD, HEALTH CHECK and DENTAL EXAM ASAP AFTER HE OR SHE RECEIVES these immunizations and exams. Your cooperation is greatly appreciated.
Bell Schedule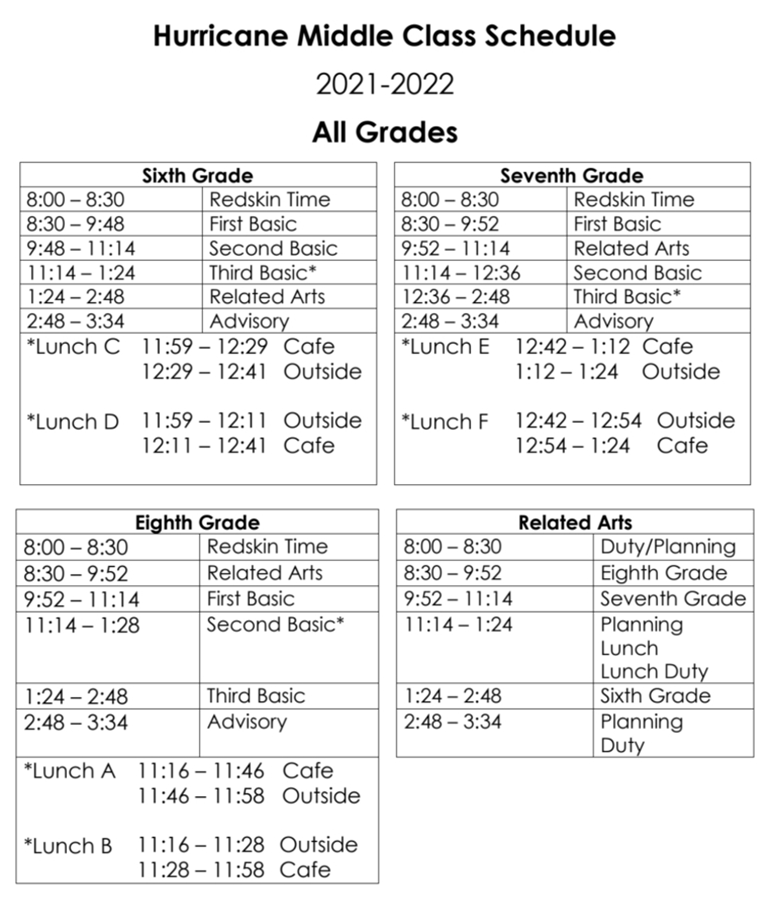 Menu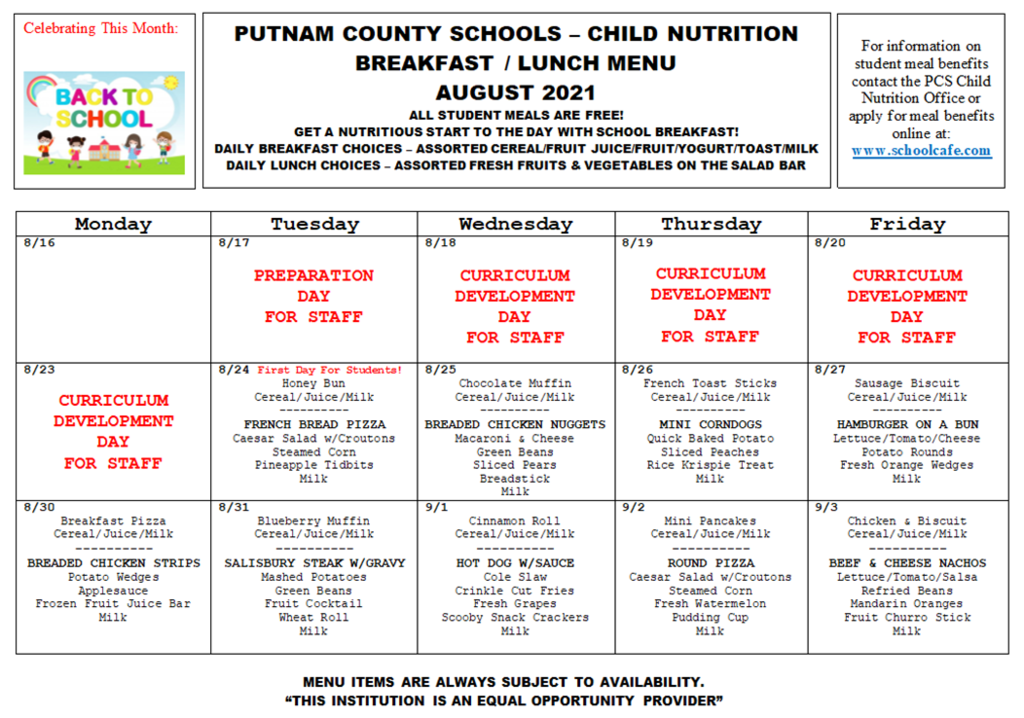 Open house will be Aug. 19, 2021 from 5:30pm-7:30pm. Last names A-L may attend from 5:30pm-6:30pm. Last names M-Z may attend from 6:30pm-7:30pm. Opening comments in the cafeteria at 5:30 and 6:35. No schedules will be given out at open house. Schedules will be given to students the first day of school.
On the first day of school only 6th grade will report at regular time. The 7th and 8th will report 3.5 hours later, start time is 11:30 am. Buses will run twice. First run will pick up 6th graders at normal time and then again 3.5 hours later for 7th and 8th graders. Walkers and drop offs for 7th and 8th on the first day of school will be 11:00 am. Additionally, any 6th grader that did not see the virtual tour and welcome video it is now posted on Schoology and will be on the PCS Connect Live Feed
Children's Crisis and Referral Line Partnership The West Virginia Department of Health and Human Resources (DHHR) Bureau for Behavioral Health (BBH) has partnered with First Choice Services to offer a children's crisis and referral line to interrupt behavioral health crises and connect families and youth with behavioral health services in their communities. Families and youth can call, text, or chat the Children's Crisis and Referral Line 24 hours a day, 7 days a week, at 844HELP4WV or 844-435-7498. The Children's Crisis and Referral Line connects families and youths with crisis and non-emergency behavioral health services. In crisis situations, the helpline links families with regional Mobile Crisis Response and Stabilization Teams who can help de-escalate the behavioral health crisis by phone or respond in person in most areas of the state if the family chooses. The helpline also serves as an access point for referrals to non-emergency behavioral health services in the caller's community. To learn more about the Children's Crisis and Referral Line, visit
https://www.help4wv.com/ccl
.
Open house will be Aug. 19, 2021 from 5:30pm-7:30pm. Last names A-L may attend from 5:30pm-6:30pm. M-Z last names may attend from 6:30pm-7:30pm.
First day of school only 6th grade will report at regular time. 7th and 8th will report 3.5 hours later. Busses will run twice. First run will pick up 6th graders at normal time and then again 3.5 hours later for 7th and 8th graders. Walkers and drop offs for 7th and 8th on the first day of school will be 11:00 am.
Any incoming 6th grade student that is interested in joining the HMS Band and has not already signed up, plan to attend the HMS Beginning Band Night next Wednesday, August 18th at 6pm in the HMS Cafeteria. No experience is necessary. Information will be provided about enrolling in the class and acquiring supplies. If you have any questions or are unable to attend next Wednesday, please contact Mrs. Paxton at
japaxton@k12.wv.us
.
FAQs - please excuse the formatting, I cannot change it on this app. Hurricane Middle School 518 Midland Trail Hurricane, WV 25526 (304)562-9271 Fax (304)562-7163 Principal – Mary Ann Allen Assistant Principal – Sara Rooper Assistant Principal- Eric Skolny Some frequent questions and answers. Where can I find the Putnam County Schools Roadmap to Recovery? On the PCS website. Can my child use technology at HMS? Cell phones-NO, these should be in a backpack or locker. Laptop-YES, but only for school related items per the PCS Technology Policy. Gaming/music devices-NO. These should be in a backpack or locker. What time does school start? Bus arrival time: 7:15-8:00 Walkers and parent drop off time: 7:30-8:00 Tardy bell rings: 8:10 Where do students go when they arrive? 6th graders – report to cafeteria 7th and 8th – report to the gym What are breakfast and lunch prices? All meals are free this year. However, to continue to receive grant money please fill out free and reduced paperwork. How do I know what bus my child rides to and from school? Go to
http://www.putnamschools.com
and look under shortcuts for bus routes. Where do I drop off my child if I drive him/her to school? Parents may drop off children between 7:30 and 8:00 by driving around back of the main building. The 6th graders will report to the cafeteria. The 7thand 8th graders will report to the gym. Please do not block the bus entrance in front of the school. What time does school end? Final bell rings at 3:34 P.M. Where do I pick up my child after school? You may park in the parking lot, in the drop off lanes. Please do not block other cars or the main road. What is the website to check grades? Schoology- Need an account- call your grade level counselor. What do I need to do if my child will be riding home with a friend at the end of the school day? Both children will need a note stating where they are going and what bus they will be riding. These notes will be turned into the office and a copy will be made and read for the students to pick up later in the day. The bus drivers will not let the students on the bus without a signed note from HM What time is lunch? 6th grade – 11:59-12:29 or 12:11-12:41 7th grade – 12:42-1:12 or 12:54-1:24 8th grade – 11:16-11:46 or 11:28- 11:58 Can I bring my child a fast food lunch? No. Can my child share food with others? No. Can my child bring in cupcakes, cookies, etc. to celebrate and share with others? No. Who do I contact if I have questions about my child's assignments or grades? Contact the teacher(s) as they will have the ability to answer the questions you may have. You may call and leave a voicemail or send a message via Schoology. When are excuses for missed school days due and where does my child need to take them? Excuses must be turned in the day the student returns to school. The student will take them to the main office, or cafe and put them in the excuse drop off box. If I sign my child out early from school do I still need to supply a note for the excuse? Yes, you may fill one out as you pick them up or they may bring one in the day they return. Signing them out is NOT and excuse it is only a sign out verification. Who can sign my child out of school? Only those people listed on the emergency card can sign out their child from Hurricane Middle. Please have a photo ID in order for HMS staff to verify you are the correct person. PLEASE BE AWARE—If your child misses class for any reason- you will receive an automated call. The attendance secretary will correct approved absences the next full school day. The system sets the call as soon as it is put in. Playing time for HMS sports. Who do parents contact? The coach. HMS administration will not discuss playing time at any point with any parent. Playing time is at the discretion of the coach. May I drop my child off in the middle of the road? NO. First of all this is very dangerous and is not necessary, we have walkways and drop off areas. Having children scramble in rush hour traffic is simply not safe. Please do not put your child at risk for injury. Social Media Facebook, Snapchat, Twitter, Instagram, Tik Tock, KIK, etc. are all forms of social media that cause problems for us. -A LARGE portion of our discipline for students begins with problems on social media. -PLEASE monitor your child's social media, text messaging, and picture sharing. Anytime it causes a disruption to the educational process, we will deal with it at school.
Hello Redskins and welcome to the 2021- 2022 school year! I am sending lots of information, please listen to the entire call. New sixth graders are able to see the Schoology thread by switching school options. This should be by your login information top right corner of Schoology. Open house will be Aug. 19, 2021 from 5:30pm-7:30pm. Last names A-L may attend from 5:30pm-6:30pm. M-Z last names may attend from 6:30pm-7:30pm. You may see a schedule in Schoology. These are not final and will change. Your final one will not be correct until the first day of school. Suggested supply list for all grades- very basic: Paper or notebooks Trapper or folders- whatever your child likes pencils red pen blue pen black pen highlighter color pencils TI 30 calculator if you would like to use one More information will be sent this week. Have great evening.
Updated Sports Information has been posted on Schoology as well as the PCS Connect App - Live Feed.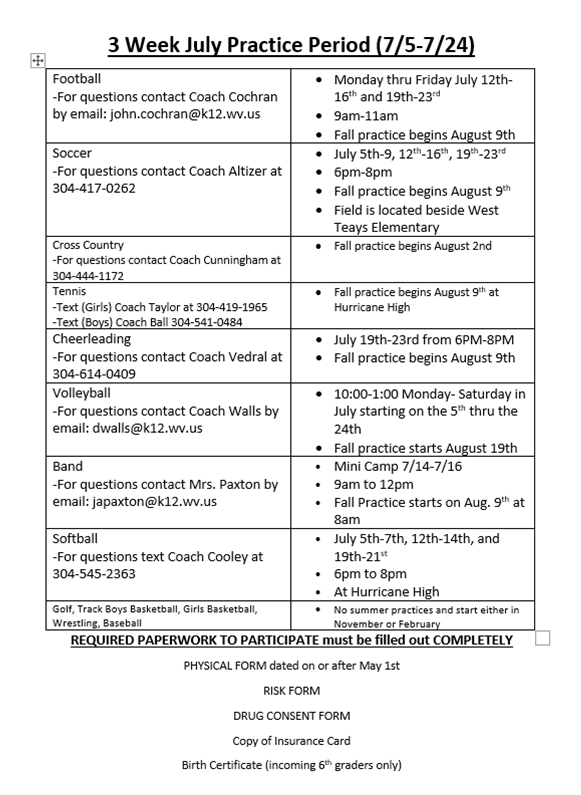 Tennis Info